testadmin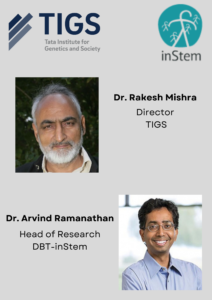 Scientific breakthroughs from the last few decades have now made it possible for us to explore cures and treatments that were once considered impossible. With the help of these innovations it may soon become possible to alleviate the many challenges and sufferings faced by millions of people who suffer from rare diseases. Rare diseases, by definition, are conditions that affect a small percentage of the population. But as a whole, they are anything but rare. It is estimated that around 70-96 million people in India are affected by rare diseases. Most of these have a genetic origin. Among the 5000-8000 rare diseases that have been identified, about 450 have been documented in India. Only 5% of rare diseases have approved treatments that patients can avail, and most are prohibitively expensive.
We at the Tata Institute for Genetics and Society (TIGS) and Institute for Stem Cell Science and Regenerative Medicine (inStem) have joined hands to work together towards addressing some of the unmet needs in treating rare diseases, particularly neuromuscular diseases. TIGS and inStem teams will be focusing on developing cost-effective diagnostics and disease modeling platforms that enable drug screening for rare genetic diseases.
Since early and accurate diagnosis of rare diseases have a significant impact on the disease prognosis, rapid point-of-care diagnostics can greatly help clinicians and families strategize the management of the disease. We aim to initially build a platform that enables genetic diagnosis and rapid analysis of biochemical markers associated with disease progression in rare genetic diseases, such as Duchenne Muscular Dystrophy and fatty acid oxidation disorders, which can then be adapted to other rare diseases. We will also develop 'Disease in a Dish' models, which can be used for screening of drugs and nutrient-based treatments.