TIGS has a state-of-the-art greenhouse facility for growing transgenic and non-transgenic plants under controlled conditions. The greenhouse is carefully designed to avoid any unintentional transmission of recombinant or synthetic nucleic acid molecules through plant pollen and to avoid any escape and establishment of genetically engineered (GE) plants into natural environment. The Standard Operating Procedure (SOP) to conduct experiments on transgenic and non-transgenic plants in controlled conditions is designed as per the Department of Biotechnology (DBT), GoI guidelines.
The initial screening of genetically engineered events takes place in the greenhouse after plant transformation and regeneration of whole plants in vitro. The primary transformants and their derivatives are usually grown for the purposes of early trait evaluation and event screening. We have proper screening and labelling procedures in place for accurate identification of plants and is very critical to maintain plant product integrity during research activities in containment facilities. TIGS greenhouse is also equipped with pollination chamber to perform crosses between selected gene edited (GE) plants and wildtype parent controls. Pollination chamber is designed to generate heat and humidity required to perform crossing experiments.
We maintain different varieties of rice, finger millet and pigeon pea all year long in TIGS greenhouse to make available embryos for tissue culture and transformation experiments and pollen for backcross breeding.
Currently we are evaluating genome edited rice lines and EMS mutagenized pointed gourd lines in TIGS greenhouse facility.
Facility Manager: V S Sresty Tavva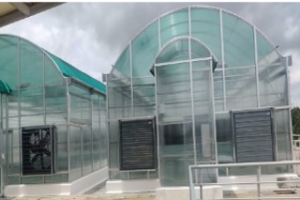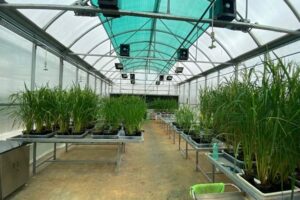 Modified rice plant lines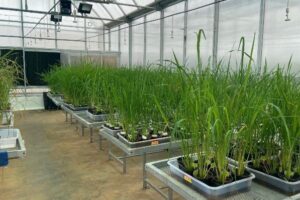 Modified rice plant lines