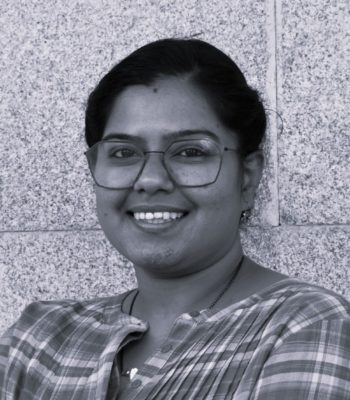 Gayatri R Iyer
Scientist
gayatri.iyer@tigs.res.in

Education
PhD Human Genetics, Osmania University (2016-2021)

PG Certificate in Medical & Genetic Counselling,

Kamineni

Education Society (2014-2015)

MSc. Applied Genetics, Bangalore University (2012-2014)

​
Experience
Post Doctoral Fellowship,

Koita

Centre for Digital Health, IIT Bombay (2022-2023)

​

Genetic Counselor,

LifeCell

International Pvt Ltd, Mumbai (2021 – 2022)

​

Genetic Counselor, Datar Genetics Pvt Ltd, Chennai (Apollo Hospitals) (2015)

​

Genetic Counselor & Faculty, PG Certificate in Medical & Genetic Counselling Course

Kamineni

Hospitals

(2016-2021)

​
Expertise
Genetic

Counselling

, Molecular Diagnostics, Methylation specific polymerase chain reaction,

Genotype-Phenotype Correlation, Patient advocacy
Areas of interest
Human cytogenetics, Molecular screening and diagnostics, Pharmacogenomics, Next G

eneration Sequencing, Microarray chip technology, Epigenetics, Genomic imprinting, Rare genetic disorders.
Honors and Awards
Elected as Joint Secretary, Board of Genetic Counseling, India (2023 – 2027)

​

Received conference grant to conduct the workshop on Prader Willi Syndrome on 2nd

July 2021 by International Prader Willi Syndrome

Organisation

(IPWSO) and Friends of IPWSO (USA).

​

Recipient of DST – INSPIRE, Government of India Fellowship to pursue PhD

programme

(IF150841) (2016 –

2021)

​

Elected Member of Executive Committee, Board of Genetic Counseling, India (2019 – 2023)

​

Recipient of IPWSO travel grant for the 4th Asia Pacific Conference Prader – Willi Syndrome Conference,

Brisbane (October 18th to 20th 2018)

​

Gold Medalist in MSc Applied Genetics, Bangalore University (2012-2014)

​

Student of the Year, The Oxford College of Science, Bangalore, 2014

​

Elected Member of Library Advisory Committee, The Oxford College of Science, Bangalore (2013-2014)

​

Second Rank in BSc. Biotechnology, Birla College of Arts, Science & Commerce, 2012

​

First Rank in Add on Diploma in Bioinformatics, Birla College/Mumbai University 2011

​
Publications
Halder A, Biswas D, Chauhan A, Saha A,

Auromahima

S, Yadav D,

Nissa

MU,

Iyer G

,

Parihari

S, Sharma G,

Epari

S, Shetty P,

Moiyadi

A, Ball GR, Srivastava S. A large-scale targeted proteomics of serum and tissue shows the utility of classifying high

grade and

low grade

meningioma tumors. Clin Proteomics. 2023 Sep 29;20(1):41.

doi

: 10.1186/s12014-023-09426-9.

Iyer, G. R

., Kumar, R., Poornima, S.,

Kamireddy

, A. P.,

Juturu

, K. K., Bhatnagar, L., Arora, S., Suresh, V.,

Utage

, P. R.,

Bailur

, S., Pujar, A. N., & Hasan, Q. (2022). Utility of next-generation sequencing in genetic testing and counseling of

disorders involving the musculoskeletal system-trends observed from a single genetic unit. Journal of

orthopaedic

​ surgery and research, 17(1), 76.

Bajaj S,

Thawani

S,

Iyer G

, Setty PN, Kore M, Jadhav V.

Telegenetics

aids the diagnosis of Hunter syndrome caused

due to a novel IDS variant in rural India, during COVID-19 pandemic. Int J

Contemp

Pediatr

2022;9:851-4

Iyer GR

,

Utage

P, Devi RR,

Vattam

KK, Hasan Q. Expanding the

clinico

-molecular spectrum of Angelman syndrome

phenotype with the GABRG3 gene: Evidence from methylation and sequencing studies [published online ahead of

print, 2021 Nov 15]. Ann Hum Genet. 2021;10.1111/ahg.12449. doi:10.1111/ahg.12449

Abbas, N. Z.,

Utage

, P. R.,

Iyer, G. R

., Alladin, M. A., & Hasan, Q. (2020). Importance of Phenotype-Genotype

correlation for Next Generation Sequencing Data to diagnose Pediatric Neurological Disorders. International Journal of

Health and Clinical Research, 3(5), 67-73.

​
Iyer G, Zubeda S,

Kamireddy

AP, Hasan Q. Pharmacogenomics to Drive COVID-19 Therapy for Best Outcome in a Low

Resource Setting. AIJR Preprints. 2020 Sep 2.

​

Iyer GR

,

Samajder

S, Zubeda S, Mali V, PV SK, Sharma A, Abbas NZ, Bora NS,

Narravula

A, Hasan Q. Infectivity and

progression of COVID19 based on selected host candidate gene variants. Frontiers in Genetics. 2020; 11:861.

​

Iyer GR,

Hasan Q. Alteration of methylation status in archival DNA samples: A qualitative assessment by methylation

specific polymerase chain reaction. Environmental and molecular mutagenesis. 2020 Jul 10.

​

Iyer G,

Utage

P,

Bailur

S,

Utage

A,

Srirambhatla

A, Hasan Q. Familial Acute Necrotizing Encephalopathy: Evidence

from Next Generation Sequencing of Digenic Inheritance. Journal of Child Neurology. 2020 May;35(6):393-7.
Book chapters authored
Psychosocial and Behavioral Aspects of Genetic Counseling in Genetic Counselling – Clinical and Laboratory Approach,

Jaypee Brothers, September 8, 2021

​.

Common Chromosomal Disorders and Non-Mendelian Inheritance in Handbook of FAQs on Basic Genetics and Common

Genetic Disorders CBS Publishers, September 6, 2021, ISBN: 9789390709892

Bhattacharya Y,

Iyer G

,

Kamireddy

AP, Poornima S,

Juturu

KK, Hasan Q. Rare Disease Advocacy Groups and Their Significance in

Diagnosis, Management, Treatment, and Prevention of Rare Diseases. In Rare Diseases 2019 Dec 13.

IntechOpen

.

​