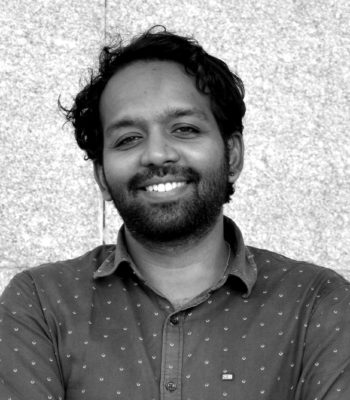 Vasanth Thamodaran
Senior Scientist
vasanth.t@tigs.res.in
Education
Ph.D. Molecular and Cellular Biology, University of South Bohemia, Czech Republic

M.Sc. Biotechnology, Pondicherry University.
Experience
Post-doctoral research, Centre for Stem Cell Research, CMC, Vellore, 2017-2020
Expertise
Mouse developmental biology, human pluripotent stem cells and Gene editing
Area of interest
Stem cell-based therapeutics and RNA modifications
Current activities at TIGS – Developing stem cell based therapeutic platforms for rare genetic disorders and investigating the role of RNA modifications in stem cells.
Honors and Awards
INSPIRE Faculty Award, 2019
Publications
Thamodaran V, Rani S, and Velayudhan SR (2021) Gene Editing in Human Induced Pluripotent Stem Cells Using Doxycycline-Inducible CRISPR-Cas9 System, New York, NY

Bagchi A, Nath A, Thamodaran V, et al (2021) Direct Generation of Immortalized Erythroid Progenitor Cell Lines from Peripheral Blood Mononuclear Cells. 10:523

Bora P, Thamodaran V, Šušor A, et al (2019) p38-Mitogen Activated Kinases Mediate a Developmental Regulatory Response to Amino Acid Depletion and Associated Oxidative Stress in Mouse Blastocyst Embryos.

John J, Saranathan R, Adigopula LN, Vasanth T, et al (2016) The quorum sensing molecule N -acyl homoserine lactone produced by Acinetobacter baumannii displays antibacterial and anticancer properties. 32:1029–1047

Thamodaran V and Bruce AW (2016) p38 (Mapk14/11) occupies a regulatory node governing entry into primitive endoderm differentiation during preimplantation mouse embryo development. 6:160190

Mihajlović AI, Thamodaran V, and Bruce AW (2015) The first two cell-fate decisions of preimplantation mouse embryo development are not functionally independent.

Saranathan R, Vasanth V, Vasanth T, et al (2015) Emergence of carbapenem non-susceptible multidrug resistant Acinetobacter baumannii strains of clonal complexes 103 B and 92 B harboring OXA-type carbapenemases and metallo-β-lactamases in Southern India: Oxacillinases and MBLs in A. baumannii. 59:277–284

Prashanth K, Vasanth T, Saranathan R, et al (2012) Antibiotic Resistance, Biofilms and Quorum Sensing in Acinetobacter Species, In: Pana, M. (ed.) Antibiotic Resistant Bacteria – A Continuous Challenge in the New Millennium, InTech