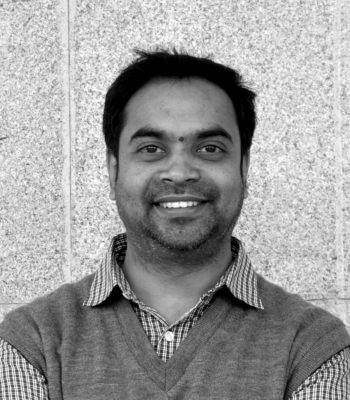 Sampath Kumar
Senior Scientist
sampath.kumar@tigs.res.in

Education
Ph.D. Sericulture, Bangalore University, 2013

M.Sc. Sericulture, Bangalore University, 2006
Experience
Studied Wolbachia biology and its transfection into novel hosts in Prof. H.P. Puttaraju laboratory in Bangalore University, Bangalore as Research Associate, Vector Science Forum, ICMR – 2017.

Trained in bio-manipulation of mosquitoes' thorough microinjection technique in Prof. Anthony James Laboratory in University of California, Irvine as post-doctoral associate – 2018.
Expertise
Handling of micro-injection systems for suspension and adherent methods

Trained in Arthropod Containment Level (ACL)- 2 and Bio Safety Lab (BSL)- 2 facilities.

Insect cytogenetics and molecular biology
Areas of interest
Standardizing protocols for bio-manipulation of diverse insect hosts

Establishing Insect Transformation Facility

Developing molecular and genetic tools for insect pest management
Honors and Awards
Bright Star Award – EMBO Malaria Genomics and Public Health – 2017
Publications
Ishtiaq F, Swain S, Kumar SS (2021). Anopheles stephensi (Asian Malaria Mosquito). Trends Parasitol. 2021 Jun;37(6):571-572. doi: 10.1016/j.pt.2021.03.009. Epub 2021 Apr 14. PMID: 33865712.
Kunal Ankola, S. Sampath Kumar, Pallabi Mondel, H. P. Puttaraju (2018) Age Dependent Regulation of Phenoloxidase Activity through Single and Multiple Wounding in Silkworm, Bombyx mori (Lepidoptera: Bombycidae) Entomological News, 127(5), 401-406.

Uday J, Samapth kumar S., Huchech C.H and H.P. Puttaraju (2015) Improvised method for detection of Phosphate group in gram negative bacterial Surface proteins: (a modified method of Fiske Subbarao method), International Journal of Current Research, 7 (12), 23969-23971.

Puttaraju.H.P. and Sampath Kumar. S (2015) Topic Editors, Unravelling the mysteries of Wolbachia, Frontiers Research Topic, Evolutionary and Genomic Microbiology, Frontiers in Microbiology.
Uday J, Sampath Kumar. S and Puttaraju H.P. (2015) Detection and Phylogenic affiliation of Wolbachia in Drosophila melanogaster (India); Entomological News; 124(4); 270-276.
B.M. Prakash, A. Prathima, H.C. Huchesh , H, Ravikumar, S. Sampathkumar and H.P. Puttaraju (2014) Sex ratio distortion in the Nesolynx thymus (Hymenoptera: Eulophidae), an ecto-pupal parasitoid of uzifly, Exorista sorbillans (Diptera: Tachinidae); European Journal of Entomology; doi: 10.14411/eje.2014.059: 1-4.
Uday. J, SampathKumar. S, Huchesh C H, Chethana.V. C, H. P. Puttaraju (2014) Insilco Analysis of Wolbachia surface protein in Wolbachia endosymbiont of D. melenogaster; Biomirror; 5(3) :24-29.

Sampath Kumar. S and Puttaraju H.P (2012) Improvised microinjection technique for mosquito vectors; Indian Journal of Medical Research 136(Dec): 166-173.

H. Ravikumar, B.M. Prakash, S. Sampathkumar, H.P.Puttaraju (2011) Molecular subgrouping of Wolbachia and bacteriophage WO infection among some Indian Drosophila species; Journal of Genetics 90(3): 507–510.

H. Ravikumar, N.Ramachandraswamy, S. Sampathkumar, B.M. Prakash, et. al. (2010) A Preliminary Survey for Wolbachia and Bacteriophage WO Infections in Indian Mosquitoes (Diptera: Culicidae); Tropical Biomedicine 27(3): 384–393.