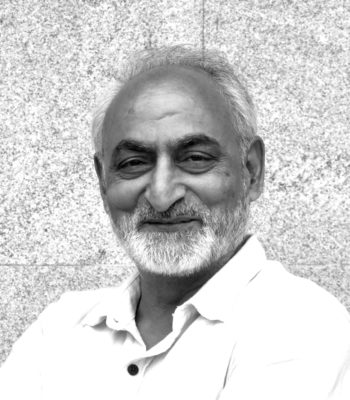 Education
Ph.D. Organic Chemistry, University of Allahabad, 1986
M.Sc. Chemistry, University of Allahabad, 1981
Experience
Director, Center for Cellular and Molecular Biology, Hyderabad, 2016 – 2021
Scientist, Center for Cellular and Molecular Biology, Hyderabad, 2001 – 2016
Postdoctoral Research, University of Geneva, Switzerland, 1996 – 2001
Postdoctoral Research, Saint Louis University School of Medicine, USA, 1992 – 1996
Scientist, Center for Cellular and Molecular Biology, Hyderabad, 1988 – 1992
Postdoctoral Research, Indian Institute of Science, Bangalore, 1986 – 1988
Expertise
Comparative and functional genomics of non-coding DNA
Organization and regulation of Hox complexes: the evolutionary logic of anterior-posterior body axis formation in animals
Epigenetic regulation and development
Elected Fellowships
J.C. Bose Fellowship
Indian Academy of Sciences
National Academy of Sciences, India
Indian National Academy of Sciences
Andhra Pradesh Academy of Sciences
Selected Publications
Genome-wide analysis of microsatellite repeats in humans: their abundance and density in specific genomic regions. S Subramanian, RK Mishra, L Singh. Genome biology 4 (2), 1-10, 2003.
The iab-7 Polycomb Response Element Maps to a Nucleosome-Free Region of Chromatin and Requires Both GAGA and Pleiohomeotic for Silencing Activity. RK Mishra, J Mihaly, S Barges, A Spierer, F Karch, K Hagstrom, Susan E Schweinsberg, Paul Schedl. Molecular and cellular biology 21 (4), 1311-1318, 2001.
The Enhancer-Blocking Activity of the Fab-7 Boundary From the Drosophila Bithorax Complex Requires GAGA-Factor-Binding Sites. S Schweinsberg, K Hagstrom, D Gohl, P Schedl, RP Kumar, R Mishra, Francois Karch. Genetics 168 (3), 1371-1384, 2004.
Synergistic recognition of an epigenetic DNA element by Pleiohomeotic and a Polycomb core complex. A Mohd-Sarip, F Cléard, RK Mishra, F Karch, CP Verrijzer. Genes & Development 19 (15), 1755-1760, 2005.
Triplet repeats in human genome: distribution and their association with genes and other genomic regions S Subramanian, VM Madgula, R George, RK Mishra, MW Pandit, Chanderashekar S Kumar, Lalji Singh. Bioinformatics 19 (5), 549-552, 2003.
Efficient and specific targeting of Polycomb group proteins requires cooperative interaction between Grainyhead and Pleiohomeotic. A Blastyák, RK Mishra, F Karch, H Gyurkovics. Molecular and cellular biology 26 (4), 1434-1444, 2006.
Design and synthesis of pyrazole–oxindole conjugates targeting tubulin polymerization as new anticancer agents. A Kamal, AB Shaik, N Jain, C Kishor, A Nagabhushana, B Supriya, G Bharath Kumar, Sumit S Chourasiya, Yerramsetty Suresh, Rakesh K Mishra, Anthony Addlagatta. European journal of medicinal chemistry 92, 501-513, 2015.
Novel motifs distinguish multiple homologues of Polycomb in vertebrates: expansion and diversification of the epigenetic toolkit. R Senthilkumar, RK Mishra. BMC genomics 10 (1), 1-18, 2009.
Vertebrate Homologue of Drosophila GAGA Factor. NK Matharu, T Hussain, R Sankaranarayanan, RK Mishra. Journal of molecular biology 400 (3), 434-447, 2010.